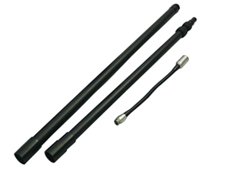 Telescopic Inspection Under Vehicle System
V5-TVS300 is a complete inspection system for High corner detection. It includes 23mm camera head, 5" monitor and 4 joints of telescopic pole. The power supply is DC 12V. The control box aslo has built-in 2200mA battery.
Telescopic inspection camera systems Model: TVS-300 have a strong and extendable pole, high resolution camera and video viewing system. They are convenient for tasks such as roof and building inspections, aerial photography, gutter cleaning, wildlife surveying, tunnel and manhole inspection, heavy equipment inspection etc. The rigid flexible camera neck is very convenient to adjust the direction of the camera. The model TVS-300 not recording functions, so you can see only.
The camera can see more than 5 meters under total darkness with the lights on. The camera is IP68 waterproof.
TVS-500DVR telescope camera enables inspecting places that are difficult to reach. Its great functionality and durability provide convenience of operation both during the day and at night, inside as well as outside.
Features :
23mm Flexible snake camera
Built-in 2200mA battery
5inch TFT LCD monitor
Telescopic pole min length is 1.67m; The max length is 5m
Main Part 1: 23mm camera head

Camera head size Ø23 x 320mm for pipe
Camera head housing material stainless steel
Camera lens cover material sapphire glass
Sensor size 1/4 inch CMOS
Field of view 120°
Camera lighting 12 pcs high intensity white LED

Main Part 2: Telescopic pole

Pole material aluminum alloy
4 joints of telescopic pole
The min length is 1.67m; The max length is 5m

Main Part 3: Monitor

5 inch TFT LCD monitor
Flexible snake connector easily to adjust the monitor direction
Resolution 800 x 480
Power supply DC 12V

Carrying case

Aluminum carrying case
Total weight 1.5kg
Unit operating temperature: -10 to 50°C, RH 95% maximum
Storage temperature: - 20 to 70°C, RH 95% maximum
Video of Telescopic :